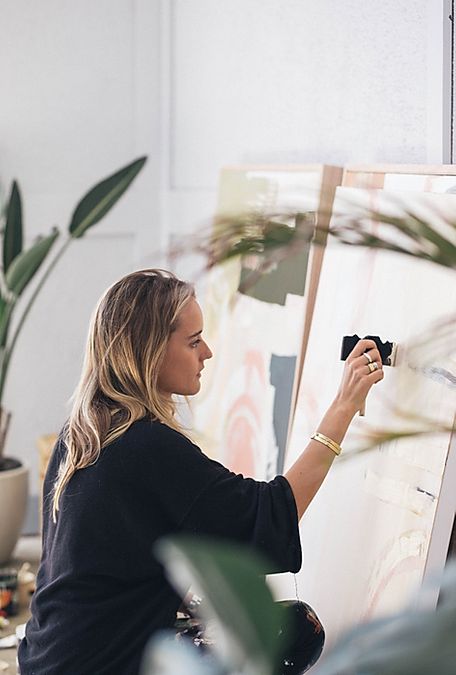 SMITHMADE Maker: Ash Holmes, Artist
Artist Ash Holmes has grown into a true creative force, starting with locally commissioned pieces in 2012, her use of colour, movement and light have gained her a following far beyond her Northern Beaches studio, from California to Scandinavia. 
Ash works on unique pieces in collaboration with SMITHMADE, and we've been fortunate to work with her on several exhibitions of new work in the last couple of years and the demand for her pieces is only increasing.
We were excited to be able to sit down with her and ask our Meet the Maker questions, and gain some unique insights into her creative process.
What's you're signature style that makes your paintings unique?
I love to paint large-scale acrylic works. I tend to use colour, shape and movement to illustrate the beauty in subjects that are natural. My works are seen as abstract but organic, with layering and use of a neutral palette, with splashes of bold colour. 
Describe the paintings you're featuring in the upcoming event at Smithmade.
My next series is called 'BATEAU', meaning boat in French, and there's a nautical theme throughout the collection. I admire beautiful handmade French pieces, which is where the translation comes in - I've focused on the ocean as it feels relevant living on the coast.
Are you drawn to particular colours?
I'm drawn to soft tones or a neutral palette. I rarely use harsh reds or tones that conflict with my aesthetic.
Where or how do you see your artwork working in the home?
I would love my art to create an ambience in a room, I don't want it to be controversial or offensive. I'd like it to add an element of calm. I love it when someone opens their imagination to what the work is about or how it makes them feel. Everyone sees something different which I find incredible.
What are three of your favourite things in your home right now?
Three things I love having in my space: a big bunch of native Australian flowers, ceramic mugs and plates, and 'In Bed' bed linen.