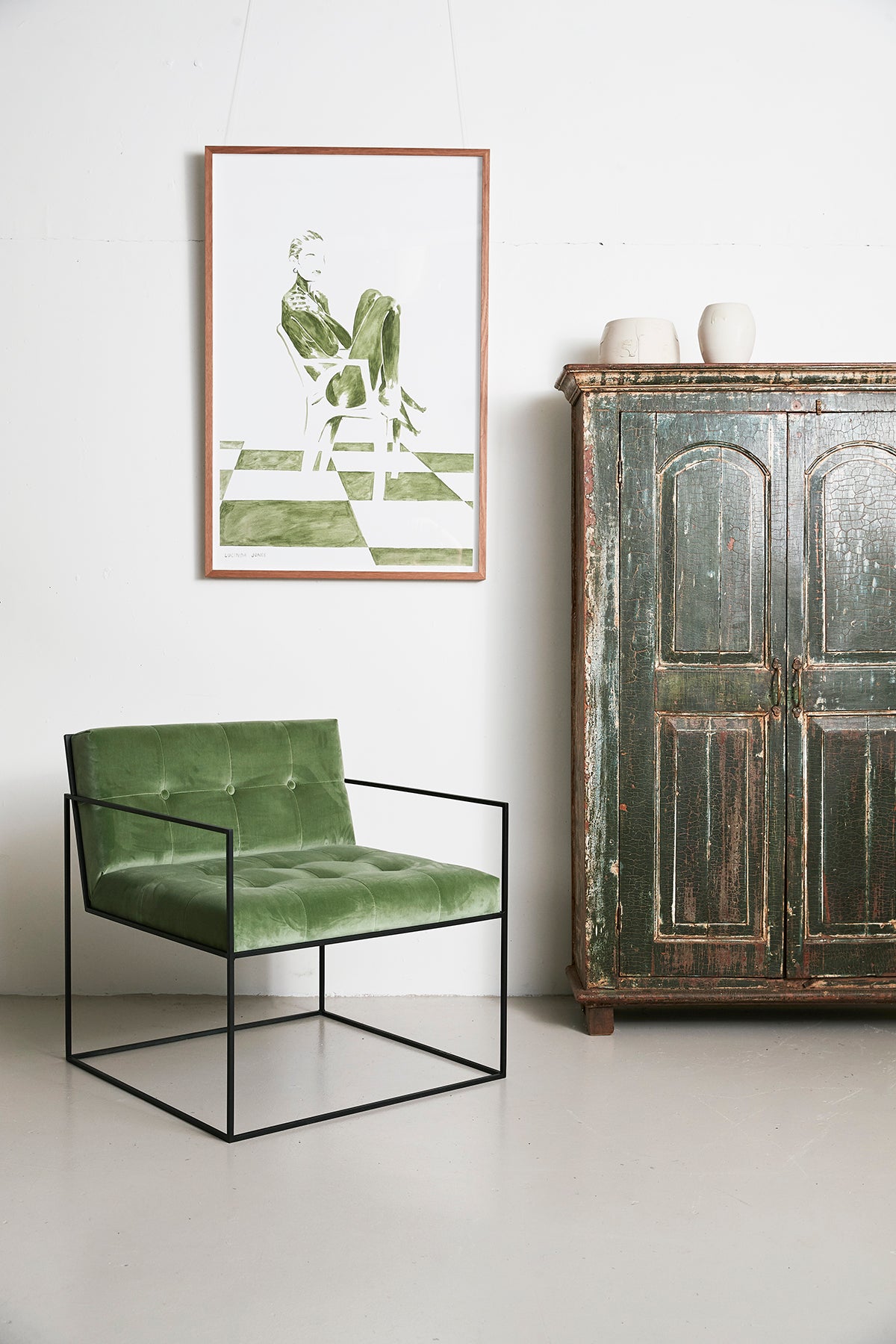 New Designers & Makers at SMITH MADE
Introducing Hegi Designhouse & Trade the Mark.
We're always on the look out for Australian designers and makers whose work we want for SMITH MADE, (and our homes). This year, we have two New South Wales design studios at the top of my wish list.

We've been following Trade the Mark for several years, falling deeper in love with the hand made and beautifully painted ceramic vessels that wear their craftsmanship so lightly. We're thrilled that Christina has agreed to sell some of her one-of-a-kind ceramics through SMITH MADE.

Hegi Designhouse are the new superstars on the furniture scene. From their Gerringong design studio they design and make all their pieces by hand from sustainably sourced timber and steel, and they are fast becoming known for their signature precisely crafted metal frame chairs and stools, and their contrastingly statuesque consoles and tables. SMITH MADE is the only stockist for Hegi Designhouse pieces in New South Wales.
"We strive to infuse stylishness into every piece because minimalism is hard to find.
Design with a difference: handmade, unfussy and beautiful"
Hegi is a Gerringong-based design studio exclusively dedicated to creating furniture from sustainably sourced materials. Juri (furniture maker) and Nelli (designer) are passionate about sustainable timber and steel and weave these elements in to creating minimalistic furniture which contribute to a tangible sense of classic sophistication at home.
Juri strives to infuse simple elegance into every design; whether it's a dining table, or a lounge chair. These are standout, hand-crafted pieces designed to be handed down to future generations.
The Underline Console
Strong and statuesque. Chunky modern proportions finished in hand crafted unique inlay.
The Underline console features two precisely joined hollow bases with a 30mm thick pill-shaped, rounded top with a unique layered edge detail.
The striking table is highly detailed with a curated selection of four distinctive timber finishes that honour the material and display high-quality craftsmanship. Available in Victorian Ash, American White Oak, Black Oak and Walnut, and pictured in Victorian Ash.
The Coulee Daybed
This daybed was inspired by the linear forms and layering of ancient canyons, the arteries of the earth. Feature lines meld between the steel frame and upholstery stitching, creating continuity and purpose wherever you look.
The Coulee is a statement piece for the home or office, available in leather, velvet and a mix of fabric and leather.
The Talas Chair
The traditional plush, armchair has had a timely makeover: meet the Talas. The contemporary Talas Lounge Chair is sleek and modern with a generously sized seat for you to sink in to. The chair is fitted with luxurious velvet cushions featuring a chic button detail. Merging modern living and comfort, this chair is designed and made with meticulous attention to detail.
Made from recycled, lightweight malt steel and powder coated in flat matte white, black or custom colour, the upholstery can also be customised to any colour & fabric.
The Kolsai Stool
The handmade, minimal design adds is unapologetically modern, yet timeless. With a bold, supportive steel frame and luxurious fabrics, the Kolsai is both refined and amazingly comfortable.
The stool is made to order; custom-built in house with meticulous attention to detail and made from recycled, lightweight malt steel, and powder coated in flat matte white, black or custom colour.
Can be upholstered in any fabric, shown here in tan leather.
TRADE the MARK is an art and design studio led by artist Christina McLean. Currently focusing on hand built and painted ceramic vessels, bespoke art pieces and textile design, the TRADE the MARK studio and its output is constantly evolving, like Christina herself. 
Christina is deeply original, incredibly skilled and finely tuned to the wonder of the natural world. Her work embodies her vision, values and creativity. Every TRADE the MARK object, whether functional or not, is a piece of art, not a product.
Indigo Stripe elongated vase
Glazed stoneware with underglaze and sgraffito decoration.
Slip brushstroke peanut vase
Matt stoneware with underglaze and slip decoration.
Kink in the road orb vase
Stoneware clay with underglaze and sgraffito decoration.
Slip brushstroke vessel
Matt Stoneware with oxide and slip decoration with a gloss glaze interior.
Blue Steel vase
Matt stoneware with underglaze and sgraffito decoration.