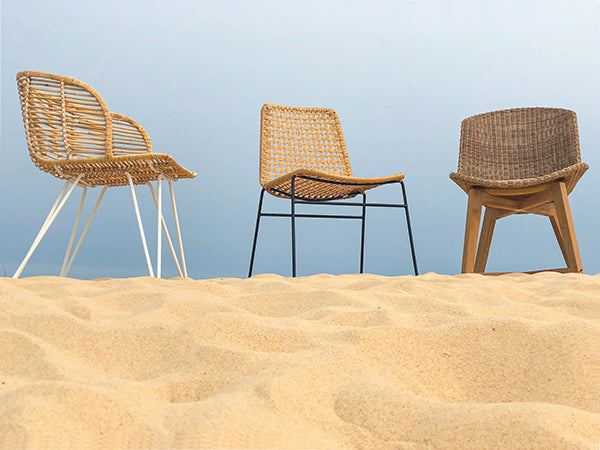 SMITHMADE Furniture: Satara
Our outdoor spaces inspire the way we live in summer. At SMITHMADE, we are thrilled to be the exclusive Sydney showroom for leading outdoor furniture powerhouse Satara. The brand speaks true to all that SMITHMADE stands for – high quality, natural materials and unique designs. We have curated a collection of Satara furniture inspired by global trends and adapted for Australian lifestyle, something we know is sought after in homes throughout the Northern Beaches.
At SMITHMADE we see modern outdoor spaces as an extension of the interior and styling the space should be considered in the same way.
START WITH TEXTURE
We always start with texture. The pared back palette of materials, including the distinctive use of nautical rope in wrapped and woven techniques in Satara's outdoor pieces, bring a relaxed natural feel upon which to build.
Statement occasional furniture such as the Rain Lounge chair uses wrapped nautical rope and spacious flowing curves to create interest through materials with an effortless minimal style.
LAYER WITH ORGANIC ELEMENTS
Layer with a macramé throw for cooler evenings and pair with a solid wood side table for an addition that applies essential function to the space. The combination of rope with the organic materials of wood and wool act together to create an inviting, homely space with a refined design.
BRING IN ANTIQUE AND FOUND OBJECTS
The SMITHMADE signature is to take these layered textures and pair them effortlessly with older, antique finds. The careful balance of new with found brings a sense of sophistication to the styling of your space.
A way to successfully do this with your outdoor living is with our antique pots, of which we have an exclusive selection in store, found across the globe and brought to SMITHMADE for you.
ADD NATURE
Finish off with your foliage of choice to bring your space alive.
Visit SMITHMADE to explore our Satara showroom and inspire your summer with some key pieces for your outdoor space.