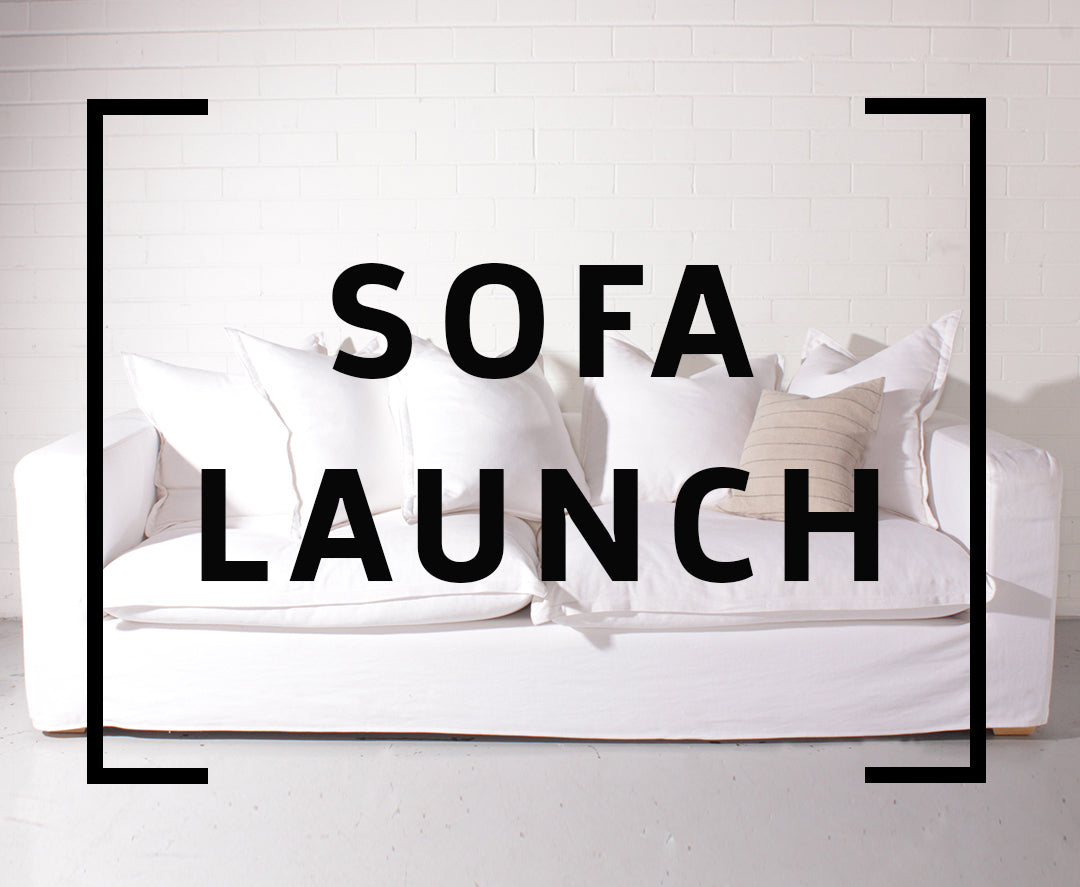 SMITHMADE Launch: Our first sofa collection
Our first official foray into furniture design is the culmination of three years of working with clients and customers in the SMITHMADE store and designing bespoke pieces for your projects.

We've learned so much about what you want in a sofa, and what truly works in your homes. The result is a capsule collection of four sofas, launching for Winter 2020, that reflect the unique SMITHMADE approach to interior style.
Our approach
A sofa is what we come home to, and everyone in the family needs to love it.
Comfort is always the number one consideration. Our Australian-made sofas use the highest in quality and workmanship to create the ultimate in relaxed and long-lasting comfort.
We want pieces with real style integrity.
Our homes reflect our personal style and the sofa is one of the foundational elements and a highly considered design piece. The four sofas have distinct identities, each reflecting the way we live and style our homes. They are designed to work as a single statement or used in pairs or groups of chairs, ottomans and multiple seaters. 
We're fanatical about details.
The curve of an arm, the depth of a seat, the width of a cushion seam, all elements were reviewed, redesigned and perfected in the development of each sofa.
 
The result of this thorough and thoughtful approach is that each sofa is an instant classic, with considered styling and effortless modernity.
The Levi
The modern modular, the Levi has clean lines and strong proportions.  Its luxurious depth and architectural silhouette makes it ideal for generous spaces and loft-like styling, but its overriding characteristic is comfort.
The Helena
The Helena is one of the new generation of sofas. Light and deceptively simple, the frame disappears into the background as you focus on the materials and the shapes.  Oak legs, elegant proportions with its slim arms, seat and back, and layers of back and scatter cushions with delicate reverse seams. Designed for modern linen, velvet and cotton upholsteries.
The Avalon
The Avalon is defined by those amazing cushions. Outsize seat cushions with a deep French seam and an abundance of scatter back cushions with an echoing French seam give the Avalon a sense of warmth and casual sophistication. The loose slip cover and removable cushion covers ensures that every element is washable, contributing to this sense of ease.

The Jaspie
The Jaspie is elegant and refined, with echoes of mid century design in its subtle curves and clean lines. The simple fully upholstered elements add up to a sophisticated sofa that works well in textured fabrics and leather, and is equally at home on polished hardwood floors, polished concrete or paired with a vintage rug.
Made in Australia
We have collaborated with a Melbourne-based heritage furniture maker for this collection. 
It means we can offer a 10 year guarantee on the hardwood frames, and a 5 year warranty on the other elements, and say confidently that our sofas will last ten times that long.
It also means that we can customise each sofa based on individual customer requirements.
The details 
Our wood is produced from responsibly managed forests or reclaimed and salvaged sources. This process protects old growth and endangered forest species whilst promoting transparent supply chain management.
The frames are made in house at SMITHMADE's heritage maker in Melbourne, using the mortice and tenon technique to ensure strong joints and hardwood blocks in corners for added strength. There's no squeaking with these frames, and no metal on metal in the construction.
The particular comfort comes from the seat platfom, with a unique zig zag frame ensuring no-sag suspension. (Usually makers will use elastic webbing on seats as well as sofa backs as a short cut, dramatically reducing the life of your sofa.)
Each style of sofa has a different recipe for the ethically-sourced feather, pearlised fibre and comfort foam mix. This means that the comfort is tailored to each particular design depending on whether the seats and backs are upholstered, cushioned or scatter back designs.
The foams are treated to eliminate odors and dust mites for allergy and Asthma sufferers, and to offer lasting production against mould, mildew and bacteria. In addition, all feathers can be removed from the construction for allergy and Asthma sufferers.
We're confident these sofas are the ultimate in Australian-made quality and design, and we're excited to show them in our Balgowlah design space.