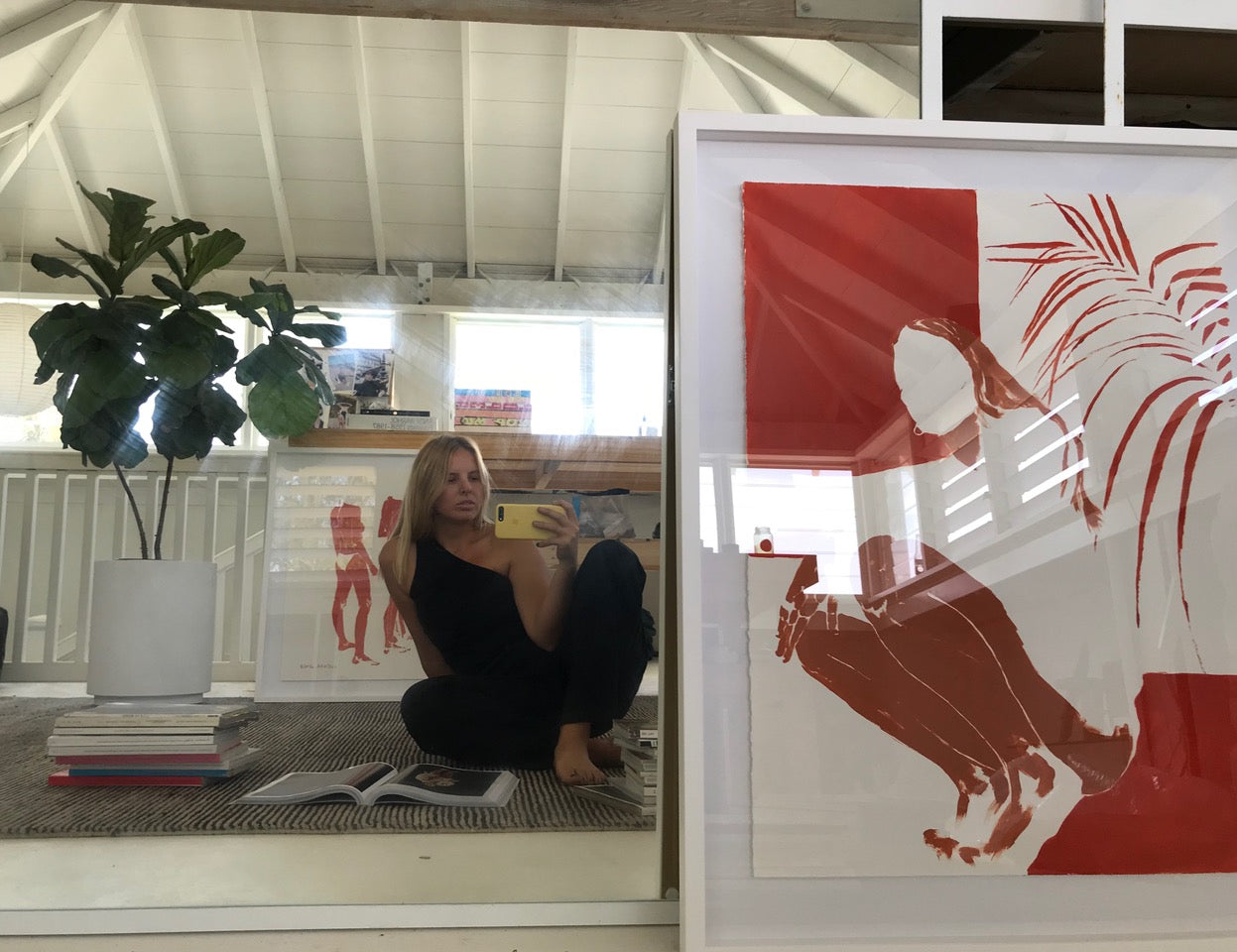 SMITHMADE Maker: Lucinda Jones
SMITHMADE Maker: LUCINDA JONES
Inspired by women in both their strength and vulnerability, Lucinda Jones creates striking portraits and silhouettes in acrylic on canvas or paper. With her distinctive use of colour and negative space, and her interest in the profound relationship between women and nature, Lucinda explores the duality of softness and strength in modern women — and the result is art at once intimate and beautiful.
SMITHMADE are very excited to host Lucinda's first solo exhibition, "Mother Nature", launching online on Friday 27th March.
The show will feature at least 13 original pieces on Arches paper and canvas, framed with Tasmanian Oak, ranging in size from smaller framed originals to statement canvases.
When did you first start making art?
I started painting in my bedroom as a little girl. I loved the control, and freedom of creating something tangible & independent to anything else. 
After high school, I started exploring & found a style and subject I loved, women. It was 2016 that I decided I was going to pursue a career in art.
How has your style developed?
It has actually stayed very true to the early days, always focused around the female form. I would say in the last few years it has just refined, yet my colour palette is always evolving.
What are you trying to capture with your art?
I aim to capture my point of view and how I see the beauty in women. Capturing a mood or an emotion is important to me. Through the notion of positive and negative space, it is my hope that the viewer can use their imagination to fill in the spaces that are left. What I decide to leave out, is just as important as what is present on the page. Capturing something that is intriguing, effortless and balanced is always the intention.
Your use of colour is very distinctive.  What's your relationship with colour?
Colour is at the core of my expression. Although at times it is the most challenging part of my art making process, it is the most fulfilling. Strangely, my home and wardrobe is quite a neutral colour palette, perhaps in an attempt to find balance between the two. 
Who and what influences you?
I am very influenced by fashion as a form of art, collecting almost every issue of Paris Vogue since I was 15. Particularly images of women that are intriguing, and create an emotional connection in some way. I am grateful I have been surrounded by very influential women in my life, who are intelligent, graceful and kind.
I find inspiration all around me, and this show in particular has been heavily influenced by the importance of mother nature, with the female form taking on this role. After the devastation our local flora & fauna have faced, with the recent bush fires, I couldn't help but be reminded and inspired by the native beauty right in front of me.
How would you describe the paintings you've chosen for this exhibition?
The female form representing mother nature, with gentle reminders of her strength, vulnerability and beauty.  I would describe them as a modern and subtle mix of 'Australian-a' and the divine feminine.
Where/how do you see your artwork working in the home?
I think anywhere you attempt to set a mood. I love when art tells a story, and I think this is done best when 2 of my pieces are place side by side, lending to one another. Somewhere in the home you can gaze and imagine what she may be thinking or feeling. Aesthetically speaking, anywhere you would like some colour :)
What are your three favourite places?
The Northern Rivers, Whale Beach & my home.
What are the three most important things in your home?
Easy. My Kitchen, as I am obsessed with cooking just as much as I am with creating art.
Our outdoor entertaining area, which I can feed my family & friends all throughout summer.
My bed, I am a Taurus and by nature we cannot get enough of our linen sheets.